Northern Border Region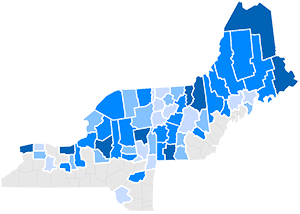 The NBRC was formed by Congress in 2008 in order to help fund promising economic and community development projects in Maine, New Hampshire, Vermont, and New York.
America's northeast has a long and storied history of entrepreneurship, forest projects manufacturing, and surviving off the rich natural resources of the region.
However, changing markets and global competition have challenged the northeast's once vibrant economy. In response, the NBRC was formed to help alleviate distress in the hard-hit northern counties of each State. Bordering Canada, these counties generally have higher levels of unemployment, population loss, and lower incomes.
The States of Maine, New Hampshire, Vermont, and New York play a crucial role in the NBRC as they partner with the Federal Government to focus NBRC funding strategies and help prioritize investment applications.
Select one of the links below to see the NBRC's impact in each member State.
Maine | New Hampshire | New York | Vermont