Economic & Infrastructure Development Investment Program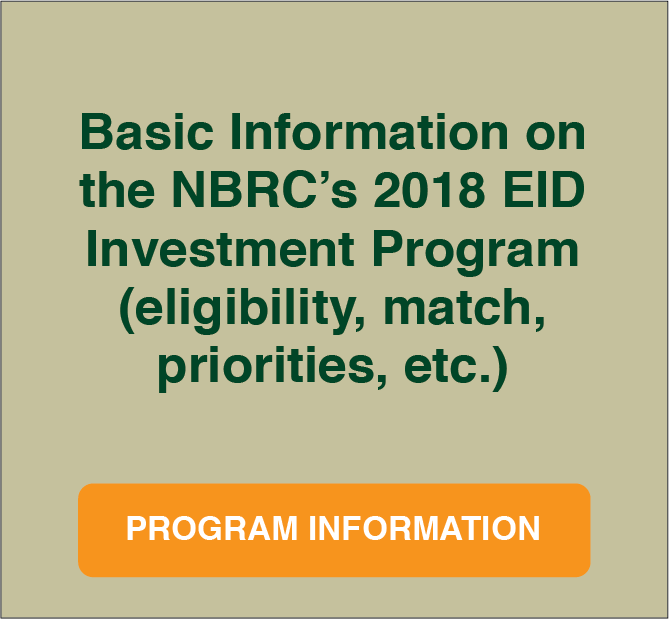 Since it's founding in 2008, the NBRC Federal - State partnership has provided Federal grants to employment generating projects that have helped reduce poverty, unemployment, and outmigration. This is primarily accomplished through the NBRC's Economic & Infrastructure Development Investment program.
About the NBRC's 2018 EID Investment Program
Depending on appropriations, $1.5-$2.5 million for projects in each State;
Up to a $500,000 maximum award to eligible infrastructure projects, up to a $250,000 maximum award for all other types of eligible projects;
NBRC awards require up to a 50% match depending on the level of county economic and demographic distress. Please contact NBRC's Program Director Christine Frost for more information.
NBRC funds can be used as match for leveraging other Federal grant funds, only up to 80% of the total project. There always needs to be a 20% non-federal match;
All funds are in the form of reimbursement for eligible expenses incurred after a Notice to Proceed has been issued.
Applications will be available in February 2018 at the NBRC's website (www.nbrc.gov) and due by May, 2018. Decision for funding will be made in July, 2018.
Supports eligible projects in...
Maine: Androscoggin, Aroostook, Franklin, Hancock, Kennebec, Knox, Oxford, Penobscot, Piscataquis, Somerset, Waldo, and Washington counties.
New Hampshire: Carroll, Coos, Grafton, and Sullivan counties.
Vermont: Caledonia, Essex, Franklin, Grand Isle, Lamoille, and Orleans counties.
New York: Cayuga, Clinton, Essex, Franklin, Fulton, Hamilton, Herkimer, Jefferson, Lewis, Madison, Oneida, Oswego, Seneca, and St. Lawrence counties.
Prioritized grant projects include those that…
Revitalize and modernize essential infrastructure in Northern Border region communities,

Increase access, affordability, and use of high speed telecommunications by Northern Border residents and businesses,

Stabilize and reduce electric and thermal energy costs,

Retain, expand and diversify business enterprise that capitalizes on the region's natural, cultural, and economic assets,

Position the Northern Border region as an attractive and supportive place for creative and entrepreneurial people,

Support and expand a highly productive workforce with skills suited to existing and future business needs,

Foster entrepreneurial leadership and capacity for community economic development, and

Inform and align local, state, and regional economic development decision making with regional data and perspectives.
Who can apply?
Public bodies, IRS recognized 501(c) organizations, Native American tribes, and the four NBRC State governments.
Decision making process is...
Consensus between the four State Governors and the Federal Co-Chair based on applications being prioritized by the States. State economic development plans influence decision-making as does the NBRC's Five Year Strategic Plan.
Are there restrictions?
Yes. Per statute, the NBRC annually assesses the economic and demographic distress of all NBRC counties. That data determines whether or not the Commission can provide investments within a county as well as what level of match is required for Commission funded projects. A breakdown of distress data categories and a current list of distressed counties for the 2018 grant round can be found at the Assessing Distress in NBRC Counties page.
Who has received EID investment funds in the past?
You can find a listing of funding recipients by year on each State page: Maine, New Hampshire, Vermont, and New York.